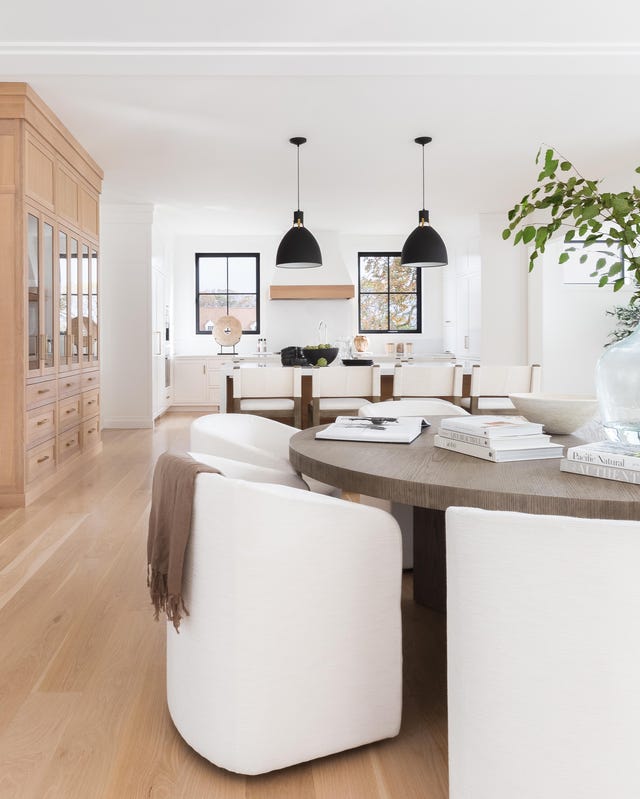 Alyssa Rosenheck Photography
What makes a seaside home a seaside home? Take a quick stroll through a recent project on the Connecticut coast by designer Leia T. Ward and you'll spot nary a blue-and-white accent or nautical motif; instead, the founder of LTW Design leveraged her penchant for warm-but-minimal modernism to let the home play a supporting role to its most striking feature: the sweeping ocean views.
"Our intention was to redefine coastal," says Ward, also a successful home stager, who met her now-clients after they came to see a house she'd staged on a nearby island. They fell in love with the decor, and eventually enlisted Ward when they decided to build a new house on a different property. "In that way it's really organic," says the designer of her client relationship. "They knew my work, and they just said, 'we want to work with you from the ground up.'"
The clients enlisted architect Mark P. Finlay and Nick Frate of Fox Hill Builders to create a home that would be functional for an active young family (the owners have five children) while also taking full advantage of the property's near-360-degree views of the Long Island Sound. Once the building plans were complete, Ward began the task of outfitting the interiors with a similar goal of combining cozy comfort and and killer location. Read on to find out how she did it.

---
Entry
The home's double-height staircase continues the sense of openness from the first floor to the second. With a structure largely comprised of glass, a warm wood floor—like this oak—is key for balance.
---
Living Room
"When you pull into the driveway, all you see is floor-to-ceiling windows into that living room, so we wanted it to be a showcase a bit," explains Ward. That said, she also didn't want the decor to block the floor-through views, so, she opted for low-profile furniture and eschewed window treatments in favor of exposed iron window frames and monochrome art instead of busy wallcoverings.
"Our goal for most projects is to make the space feel calm," says the designer. While the monochrome palette here helps achieve that, Ward didn't want the space to feel cold: A plush rug from RH Modern and a concrete of the coffee table and fireplace surround add tactile elements. "It needs that depth because it's really just a big glass house," says Ward. "The textures provide that without making it feel super crowded."
---
Dining Room
"The color palette has to be cohesive throughout all our projects," Ward says—and it became especially important in a home like this with an open floor plan. In the dining room, she continues the monochrome palette with pops of texture. "We were thinking, how do we make this coastal but also sophisticated, so it could be anywhere in the country." The answer? "A lot of natural materials," including oak, wool, and linen, like on the dining chairs.
---
Kitchen
Lauren Vallario designed the foundation of the kitchen, with Ward filling in lighting and accessories. Ward also recommended the double island, a feature that's becoming more and more common in her projects. "One island will be completely functional—it has a sink, you can put your groceries there—and then the other island has seats on both sides," like a kitchen table. "We just want to make it really functional, but also uncluttered," she explains.
---
Family Room
"It's a bit more casual," Ward says of the family room, in comparison to the living room. "It's where they'll all hang out as a family." As such, Ward upholstered the comfortable sectional in a Perennials fabric, which will stand up to any spills from the family's (five!) kids.
---
Bedroom
"I wanted to create a kind of Malibu feel," says Ward of her decision to cover the main bedroom's vaulted ceilings with wood. The resulting warm, open space is a perfect distillation of her vision for the home as a whole: "It's obviously a high end home, but we wanted it to fee approachable and down to earth," she says. "The whole vibe for this was casually sophisticated. Everything is very usable but when the kids aren't there the adults can have friends over and it's a complete adult space too."
---
Bathroom
The main bathroom exudes the same sense of calm which permeates the home.
---
Study
"Everyone needs a desk at home these days," says Ward, who turned a small niche off of the bedroom into a study with the addition of a minimal desk and photograph by artist Cattie Coyle.
---
See more of the home—and its views!—below:
---
Follow House Beautiful on Instagram.
This content is created and maintained by a third party, and imported onto this page to help users provide their email addresses. You may be able to find more information about this and similar content at piano.io