It's always a little sad saying goodbye to summer, but the upside is that you can embrace all of the best autumn decor ideas and trends out there. There's no denying that the change in seasons is pretty beautiful, with leaves turning brown and the weather a little more crisp. 
It's the perfect time to add more warming colours, or another colour palette altogether, to rethink lighting, choose exciting prints, comforting textures and more for your home to make every space even more inviting. Thankfully, it's easy to bring the best of autumn into your surroundings too, without spending a fortune. With some simple additions to your hallway, living room and even bedroom, you'll be able to feel all the pumpkin spice latte, cosy evening and halloween vibes at home.
How can I make my house autumnal?
It's all about incorporating the best autumnal colours and textures from the outside with more contemporary interior design trends and looks. Think neutrals with burnt orange or a splash of something bright, cosy throws with modern sleek shapes. And, it wouldn't be autumn if a little DIY and craft weren't involved so don't be afraid to let loose with the kids to create cute and unique trinkets that will impress any house guests too.
H&M Home Head of Design & Creative, Evelina Kravaev Söderberg speaks about their autumn collection 2021:
'This season at H&M HOME  is about the importance of feeling good at home. We want to focus on our senses and how we can satisfy them. We want to explore and dig deeper into the rooms and interiors – using colours, materials, lights, and scents to help customers get a feel-good-at-home experience.'
Lucy Kirk, Creative & Photography Manager at Lights4Fun adds 'Styling your home both inside and out is simpler than you may think! You can keep it minimal whilst still embracing the season with autumnal decorations, LED candles and lights.'
Autumn decor ideas and trends we're falling for
We're seeing classic harvest colours with splashes of brights and intricate textures that are sure to bring seasonal delight to all the rooms in your house. Whether you want to cosy up your bedroom, the lounge or hallway, autumn is the perfect time to reset and refresh your decor scheme to see you through the last few months of the year in style.
1. Pops of colour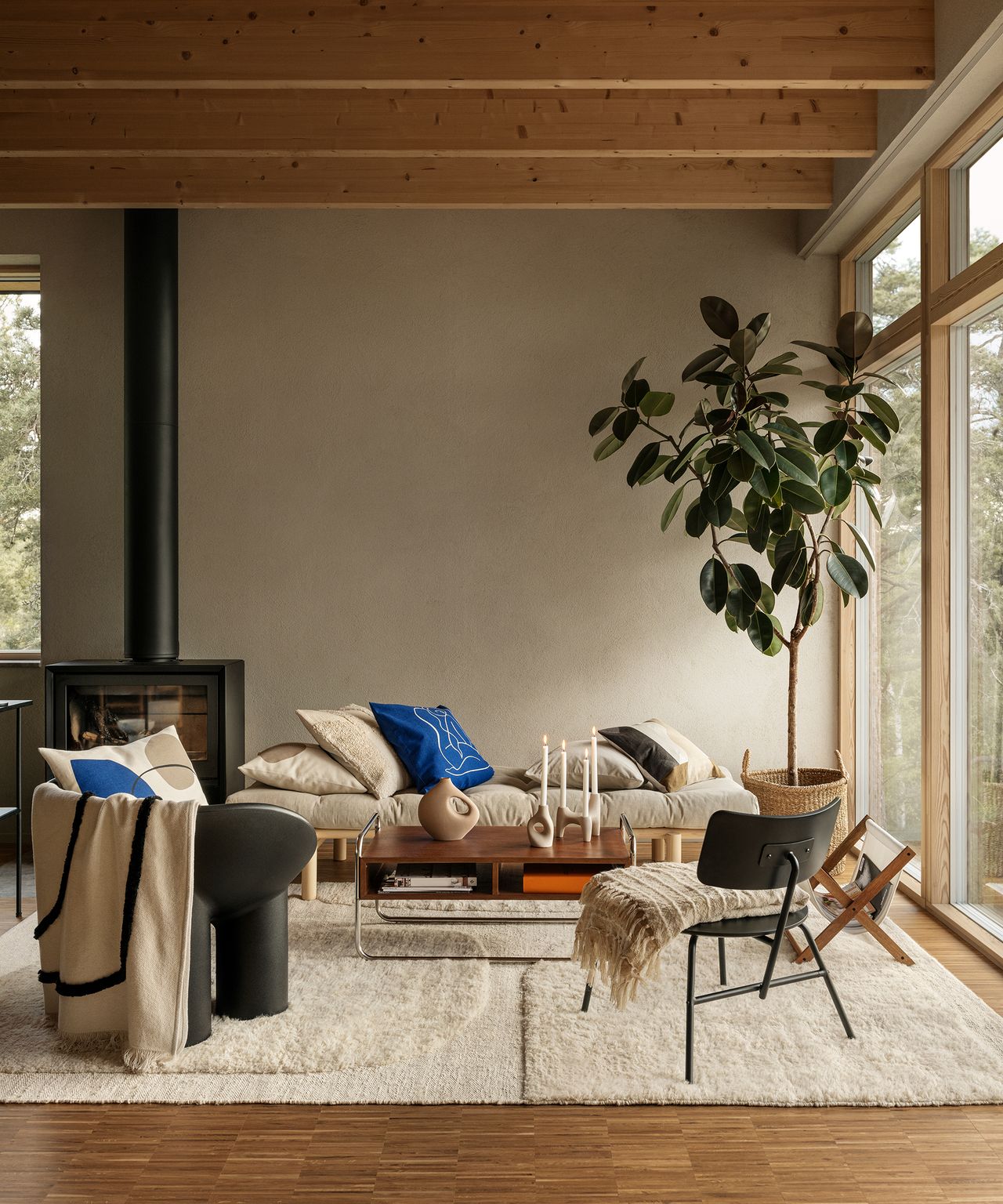 Fresh from the H&M fall collection, even the addition of one eclectic colour to contrast a minimal decor scheme can bring your space up to date in autumn. 
'People are spending more time at home than ever before, so we want to help them get more out of their living space by encouraging them to use all senses when decorating. The trend in focus is artful, sculptural, bold, and cosy. We see a lot of textures and inspiration from contemporary craft, tactility, and graphic neutrals, with shades of neutral colours and a new beautiful colour that stands out for the season – klein blue.' Adds Kravaev Söderberg.
2. Cool coloured decor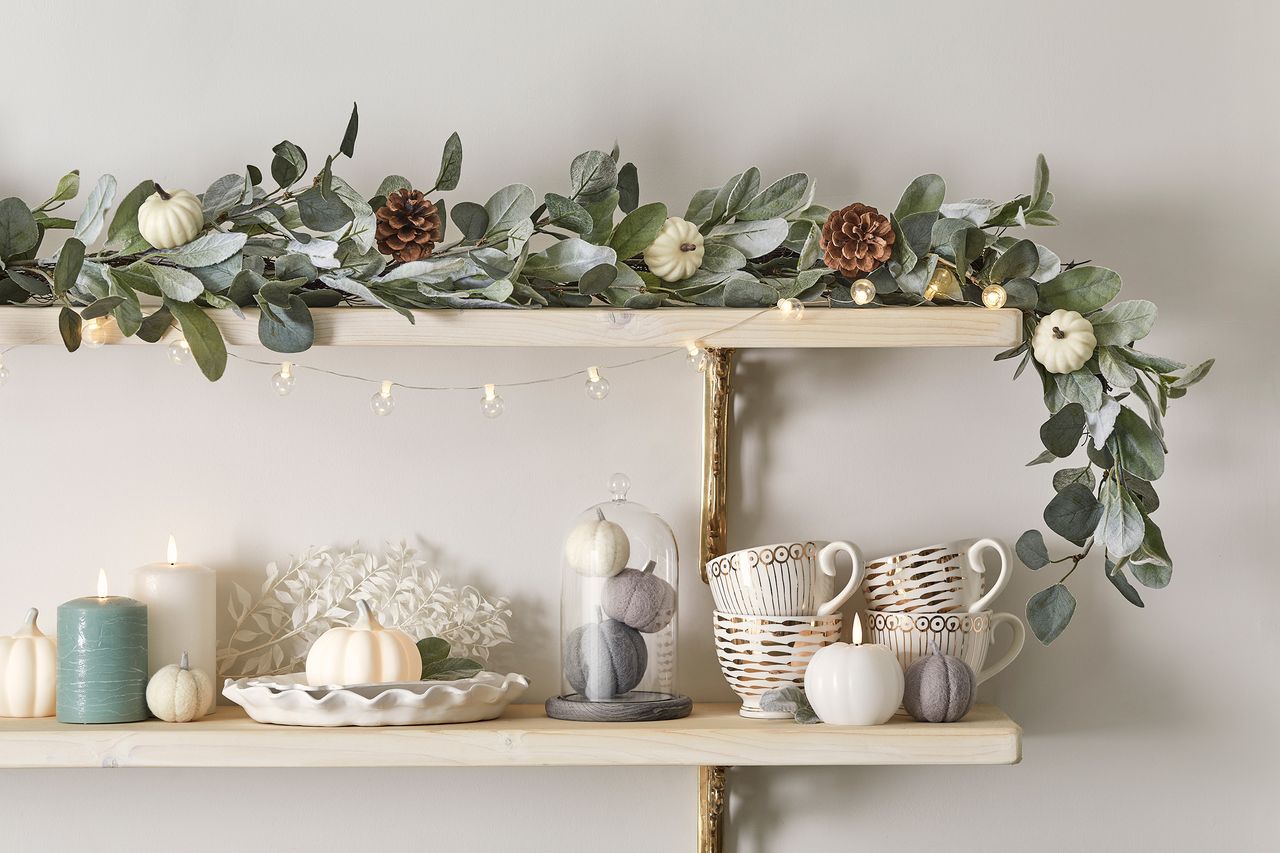 It doesn't always have to be all burnt orange and burgundy. 'Neutral autumn décor radiates a calming feel as we welcome the outside in. Combining muted tones through shades of green lily and cool grey with ceramic touches and faux foliage, working together to offer a soothing sanctuary from home.' Says Kirk.
3. Pretty pastels and gilded accents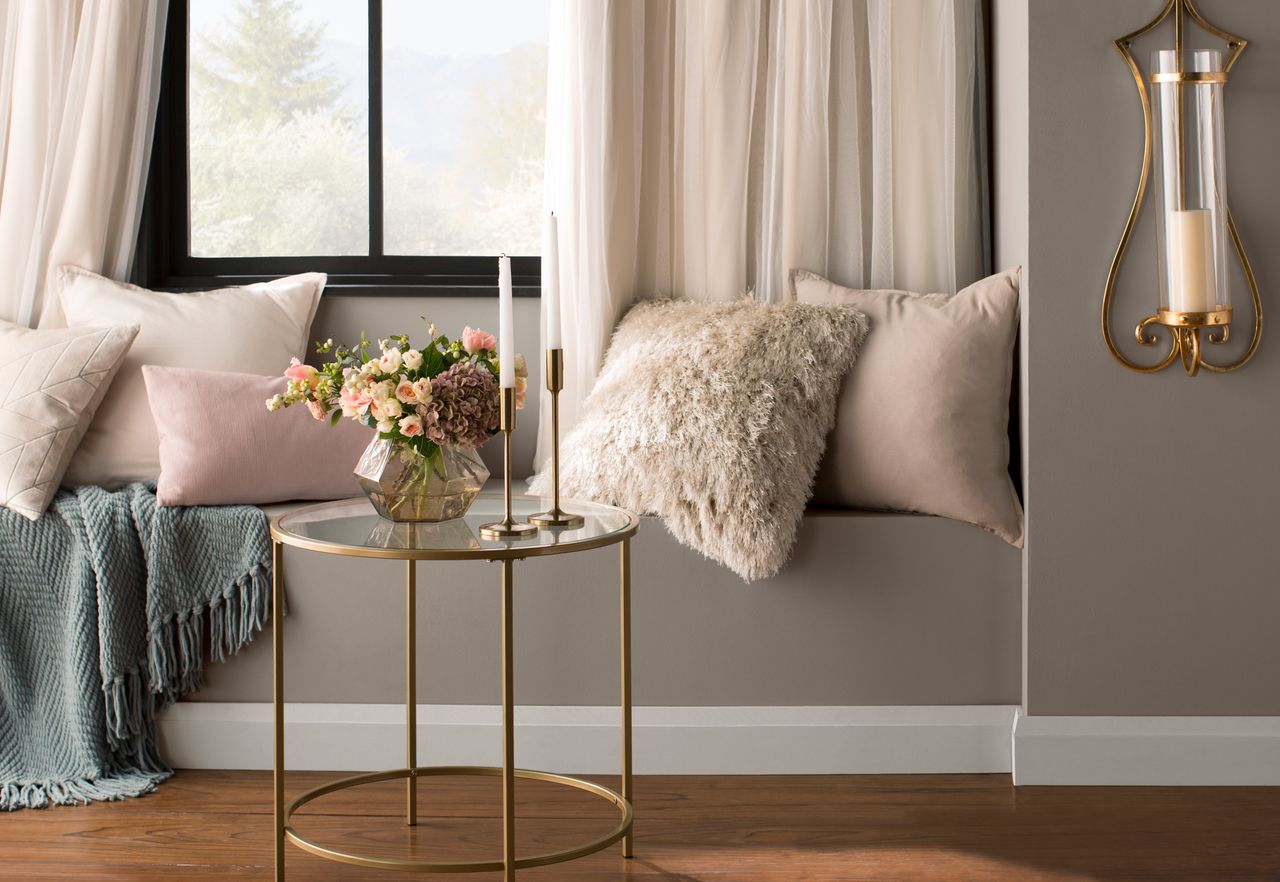 Contrast rich gold with a lighter colour palette for a polished autumnal look. Plus, the contrast of cosy textures from the throws and cushions against the sleek, modern coffee table creates a balanced finished that will last beyond AW21.
4. Textured tablescapes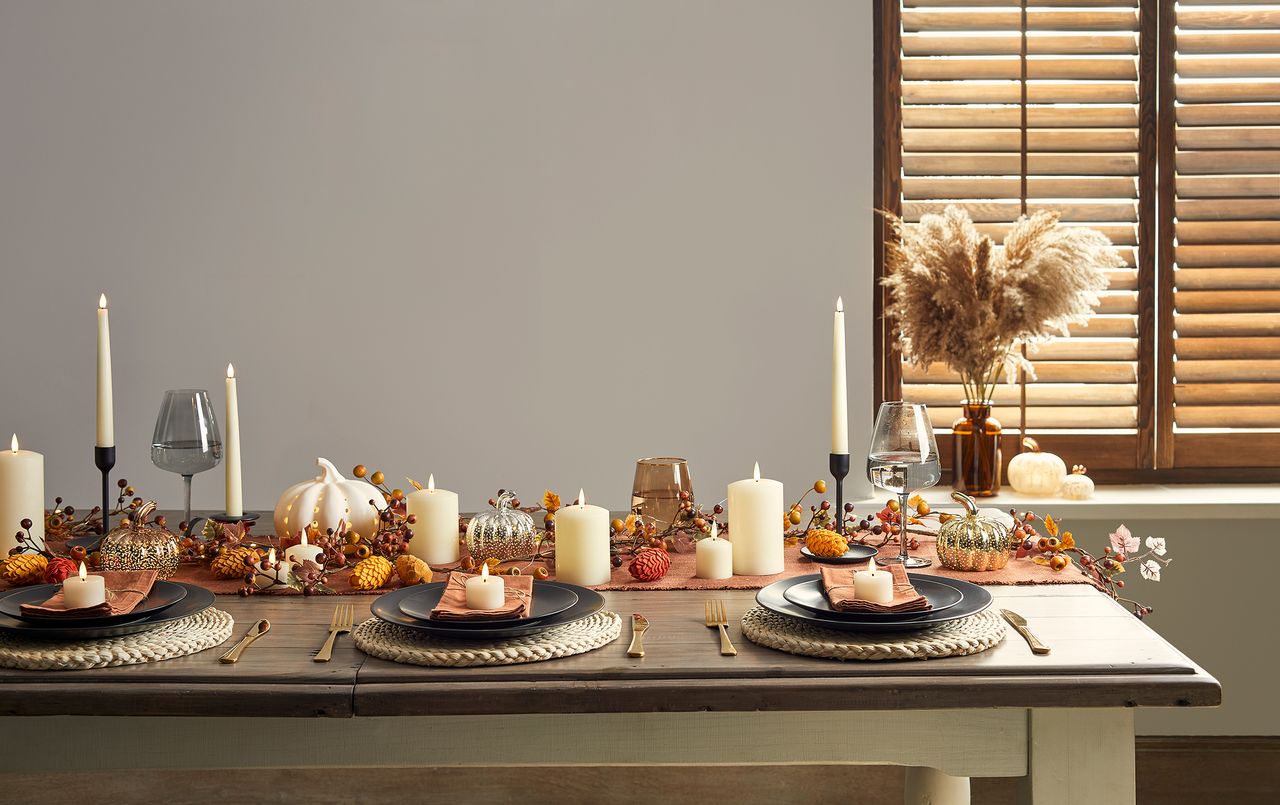 'Harvest inspired decor is perfectly on trend this year as we focus on the burnt orange tones, pampas grass and tinted glass. Autumnal wreaths can be used to decorate both indoors and out, adding an elegant accompaniment to your set-up and can be styled on their own or entwined with micro lights to add to their appearance. They can even double up as a centrepiece for your dining table! Style the wreath alongside a garland and position it like a runner within the centre of your table. You can then place mini pumpkin lights in and around the garland.' Notes Kirk.
5. Minimal prints and cosy tones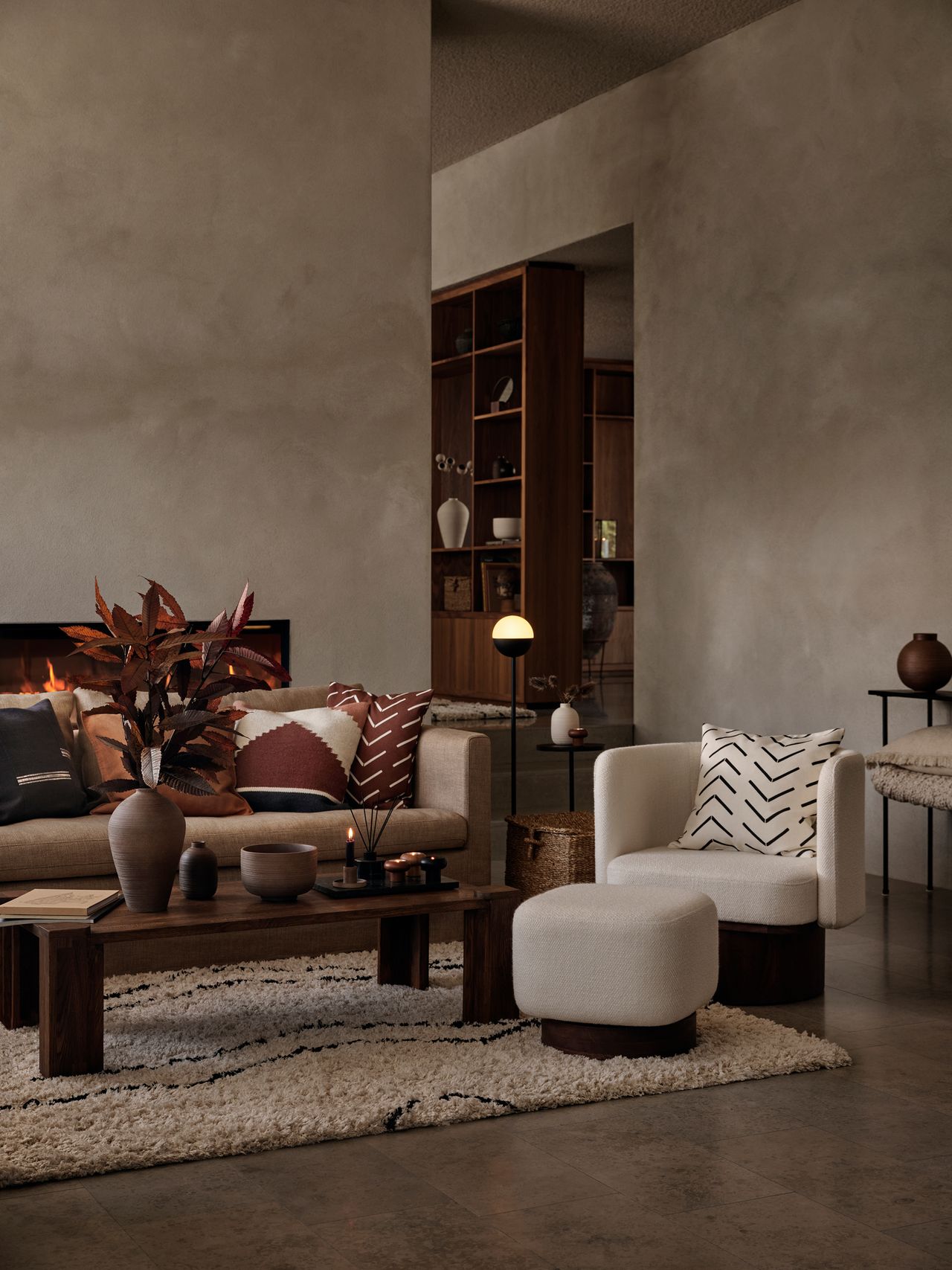 Mix minimal and modern textile prints in gorgeous burnt orange colours with bold black and white numbers for a modern finish that works so well as a quick and easy autumn upgrade. Earthy vases and autumnal foliage nod furthermore to the season in this H&M Home setup.
6. Warm layered lighting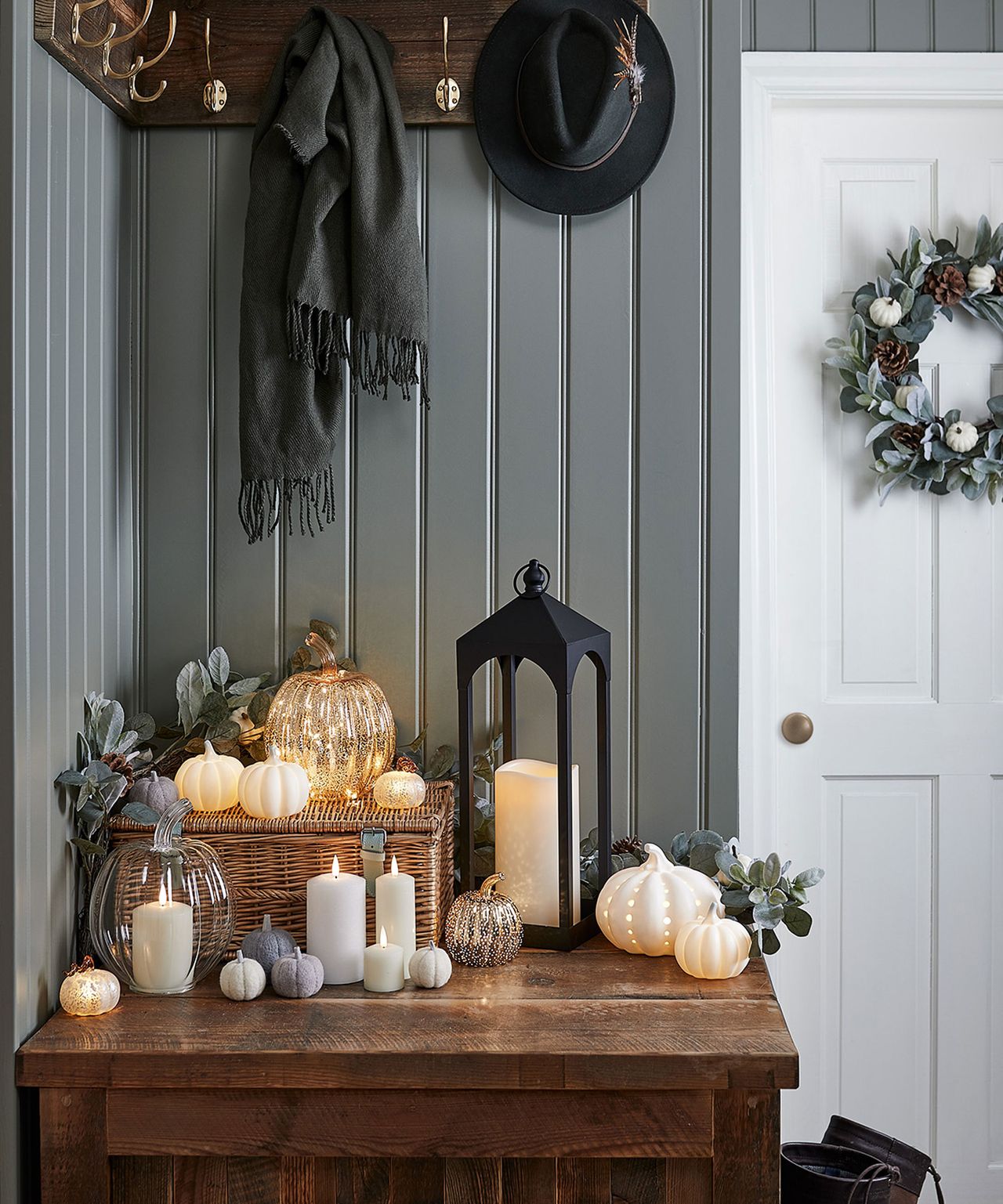 What better way is there to make your home feel cosy in autumn than with soft warm lighting to welcome you home. Layer classic candles with LEDs and even your best fairy lights for a more interesting display which will feel super seasonal. 
'Ceramic crafted pumpkins, illuminated by warm white LEDs radiate a soft shine to sideboard tops and entrance halls. Black metal lanterns and wooden lanterns are popular choices for the season, featuring neutral LED candles within them to add a calming glow in doorways and homes. Faux or real foliage is a great way to complete your display and can be intertwined between elements of the arrangement or you can hang a sprig or two as a feature on a wall or door inside your home on those chilly autumn evenings.' Notes Kirk. 
Sure to elevate all types of hallway ideas for a mini makeover.
7. Crafty pumpkins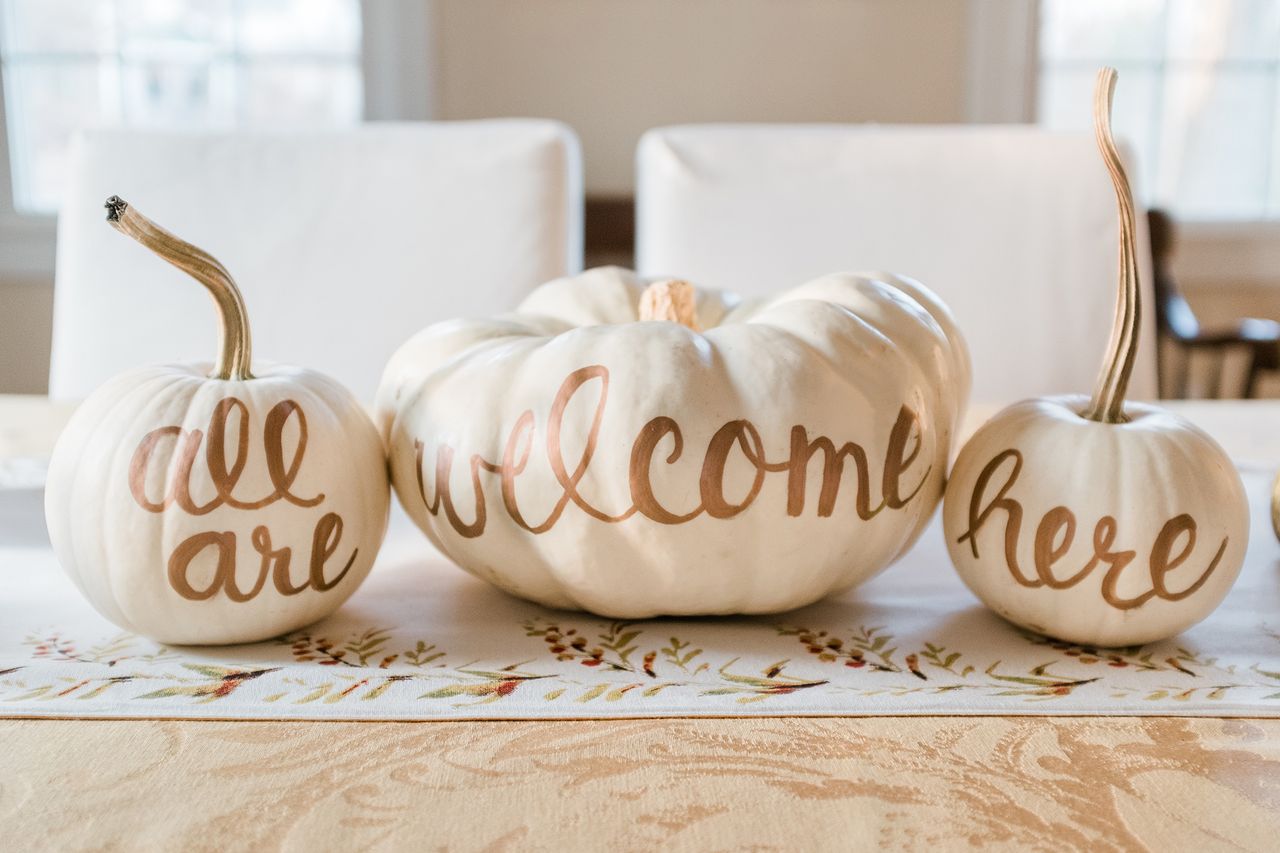 Pumpkins don't just need to be ghoulish. Try your hand at some no-carve pumpkin ideas and paint yours (spray paint works really well) then add some inviting lettering to help brighten up your hallway or living room space all throughout autumn.
8. Switch up throws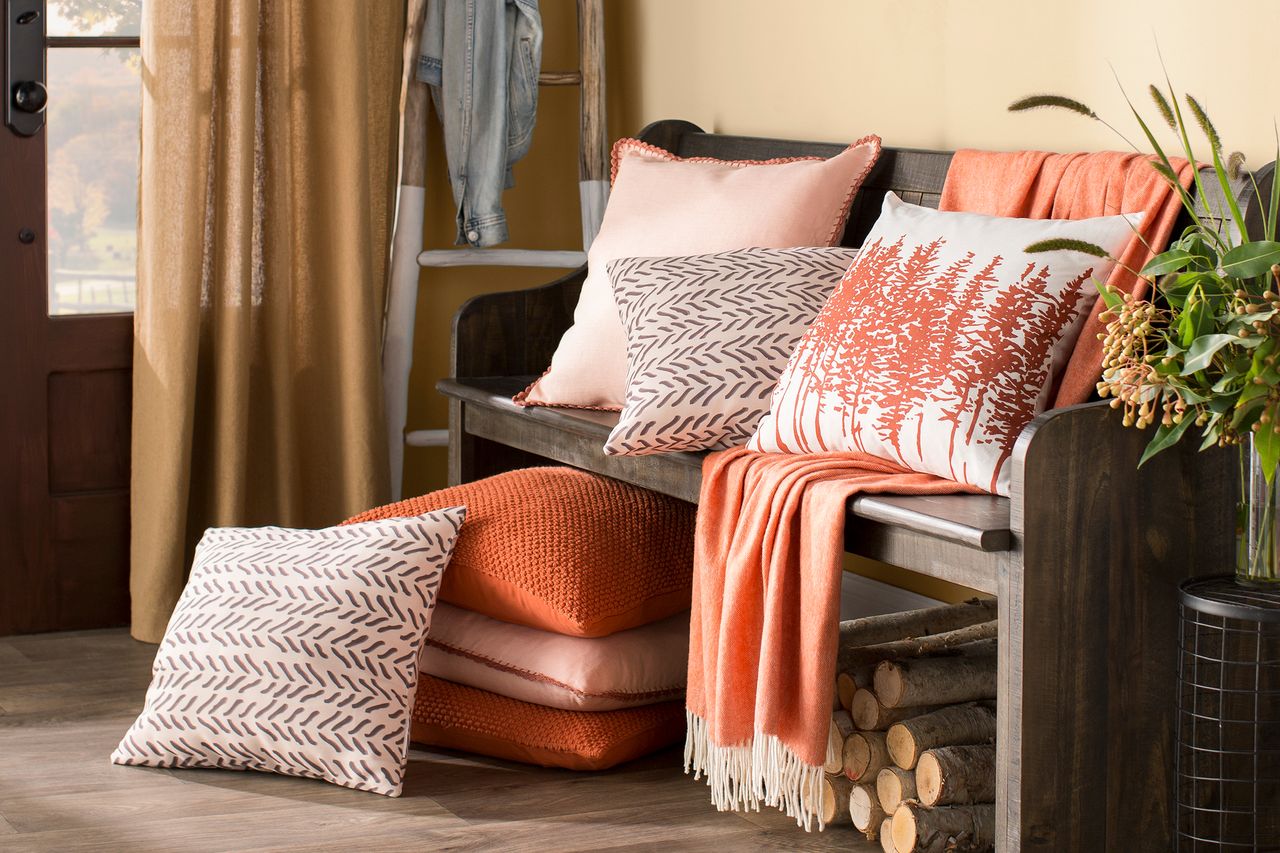 Ideal in a hallway or if you want to make your conservatory a little more autumnal, find burnt orange and foliage-filled throws then swap out a couple of cushion covers and you'll pull a seasonal look together in a matter of moments. 
Wayfair has a cute selection to bring home at budget-friendly prices.
9. Decorate with plenty of natural textures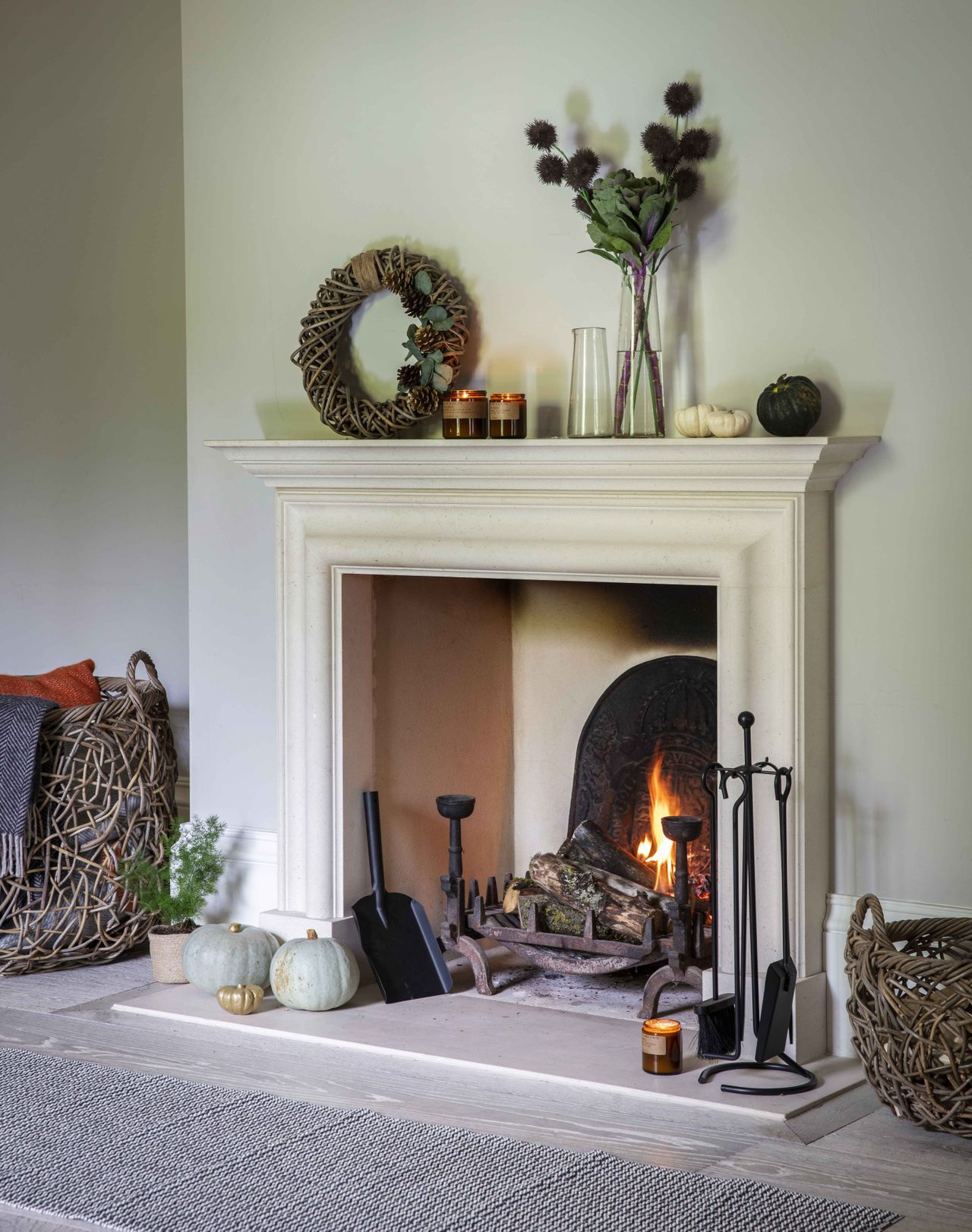 Cosy is autumn's buzzword after all and the fireplace is where it's at. Surround yours with pumpkins and more lovely natural textures – think wicker baskets, foliage and woody accents – to create an inviting space. 
Baskets are also a budget-friendly way to add warm colours (and a little storage) to your space. These tangled weave baskets are from Garden Trading and are such lovely quality, but if you are shopping on more of a budget check out Dunelm too.
10. Candlesticks in blue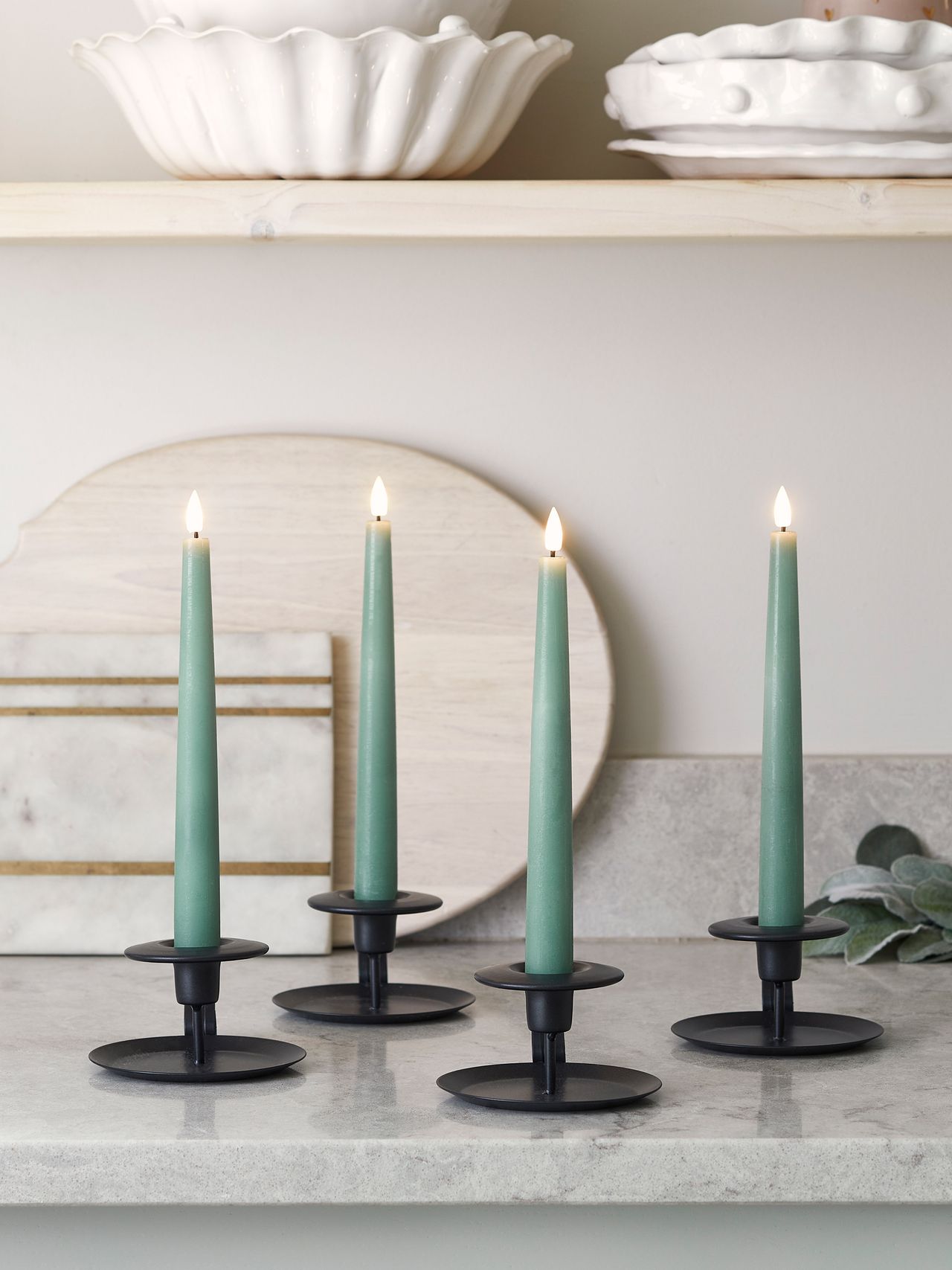 You can add a pop of colour in autumn without a big spend, choose cool eucalyptus blue to brighten up your kitchen worktops or dining room. 
Kirk adds: 'Taper candles are an elegant option for your dining decor and can line the centre of your table whilst pillar candles can be positioned within your chosen wreath as a stylish centrepiece. Kitchen styling is on the rise this year, with more people turning their attention to using autumnal decorations throughout their homes to tie in with their seasonal interior.'
11. Nod to Cottagecore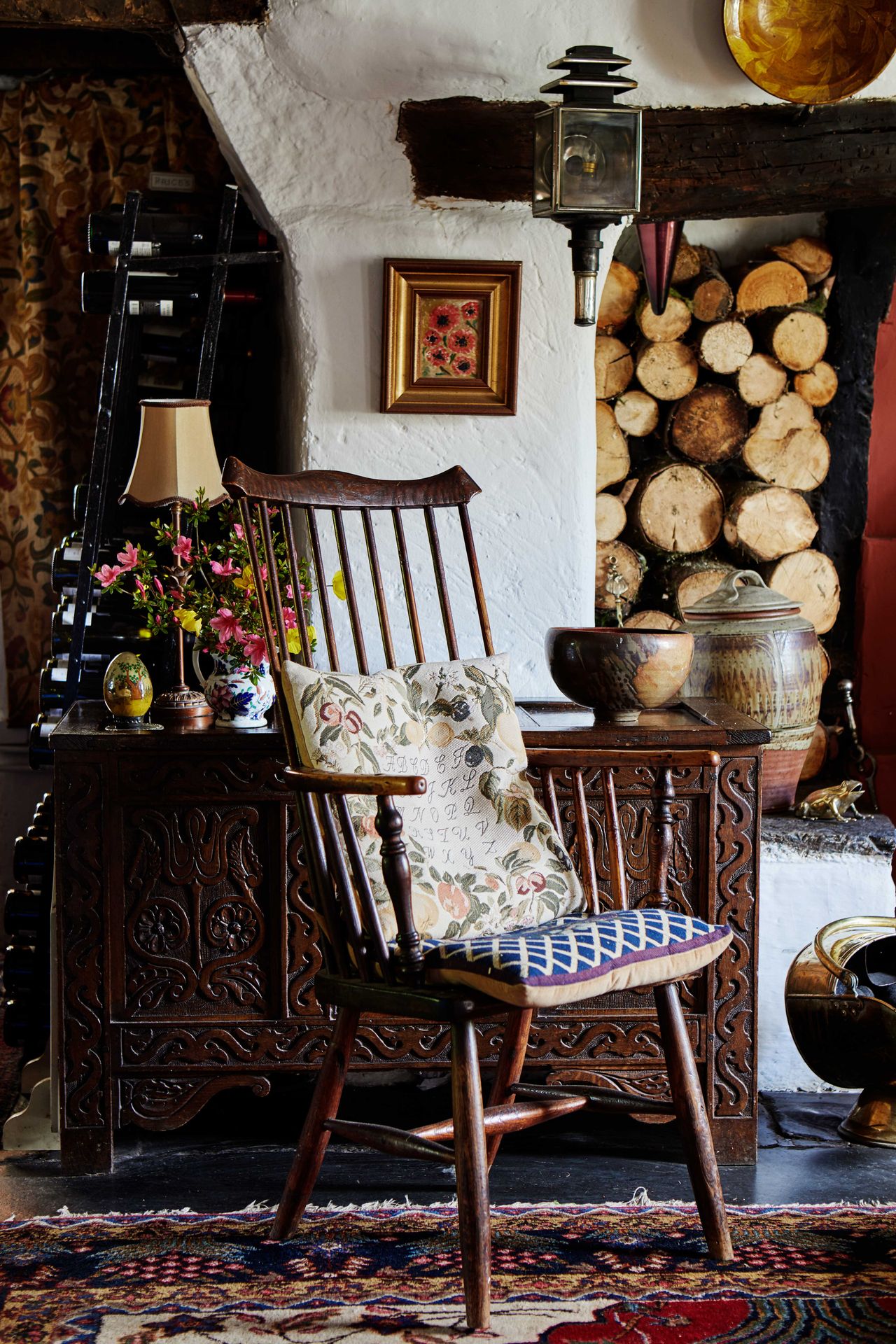 If you lead a Cottagecore lifestyle, i.e. a very wholesome, pastoral and rural-loving life then you should definitely embrace that even more in autumn. An inexpensive way to bring more of the cute prints and mismatched trinkets into your home is to scour eBay and Etsy for unique bargain buys. The quirkier, the better.
12. Felt textures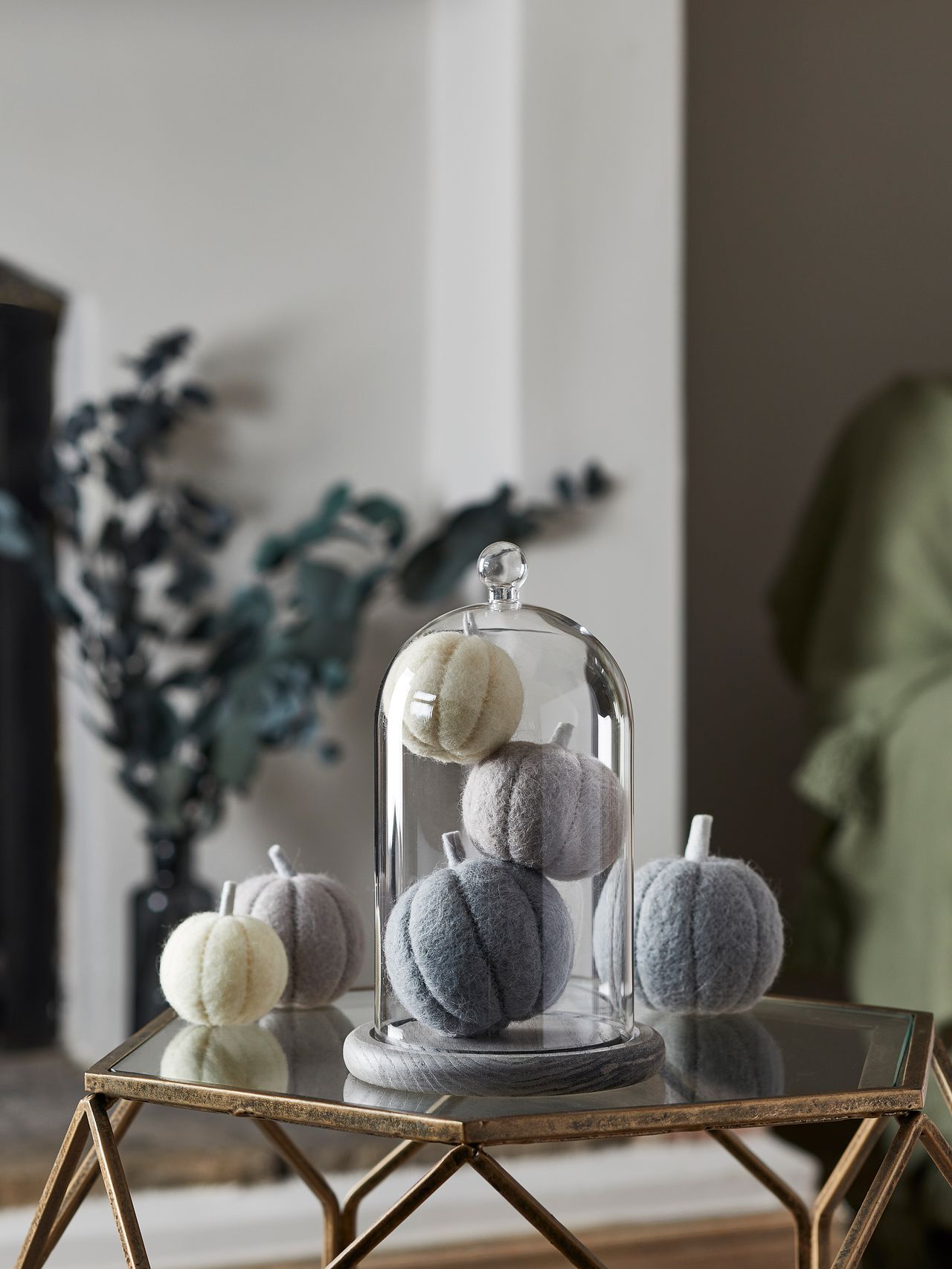 Crafting some DIY autumn decos is a great way to make your space seasonal and unique. And, felt is a nice fuzzy fabric that adds fun to all kinds of spaces. Arrange pumpkins elegantly in and around glass jars on a coffee table for a cool and modern autumnal look.
13. Layer up neutrals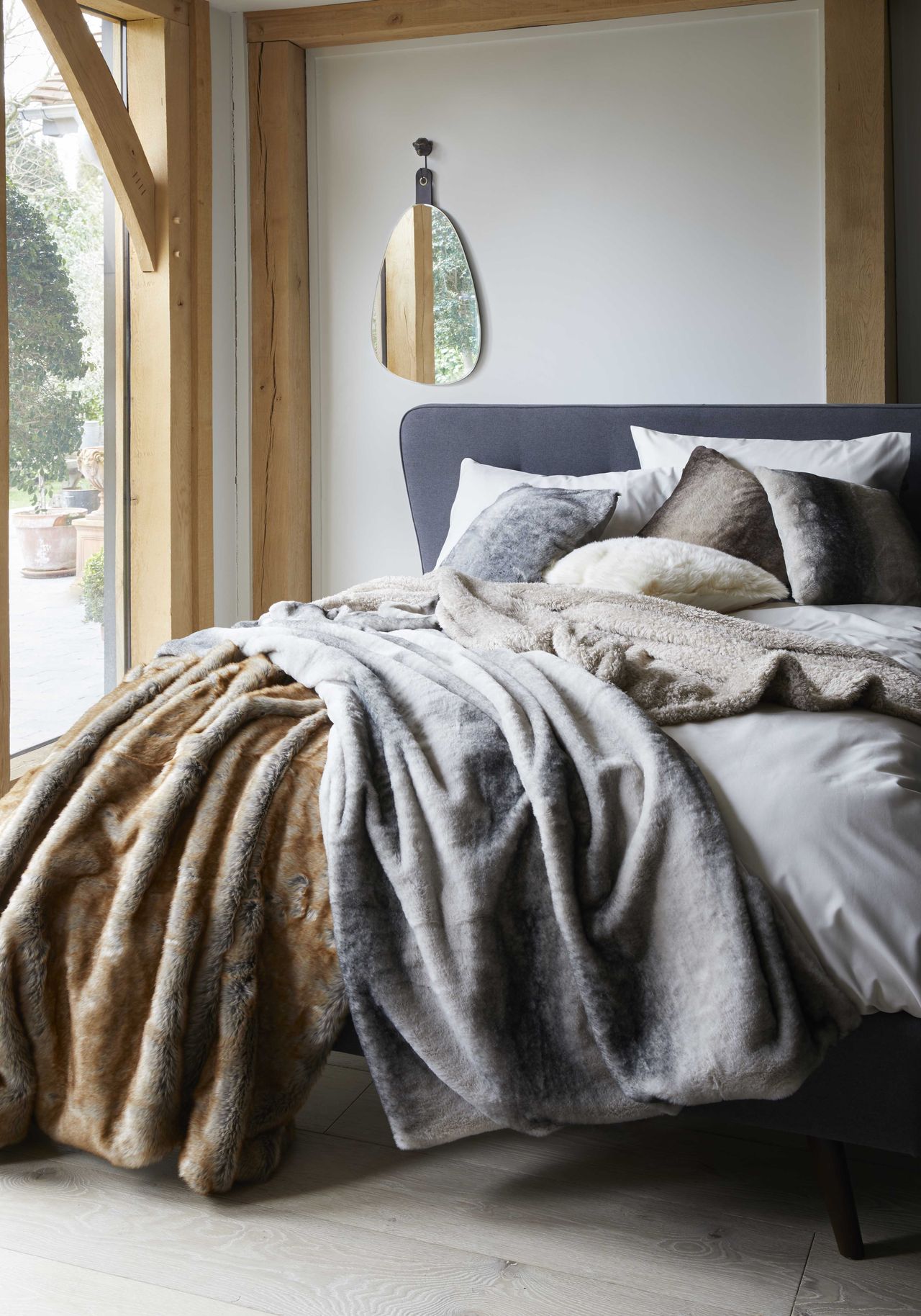 Now this, this is a bed that's perfect for autumn! Layering up a duvet with throws, pillows and cushions is a really easy and budget-friendly way to bring your bedroom space into season. All of this bedding is from Dunelm, so affordable and super cosy of course.
14. Jewel-like colour palettes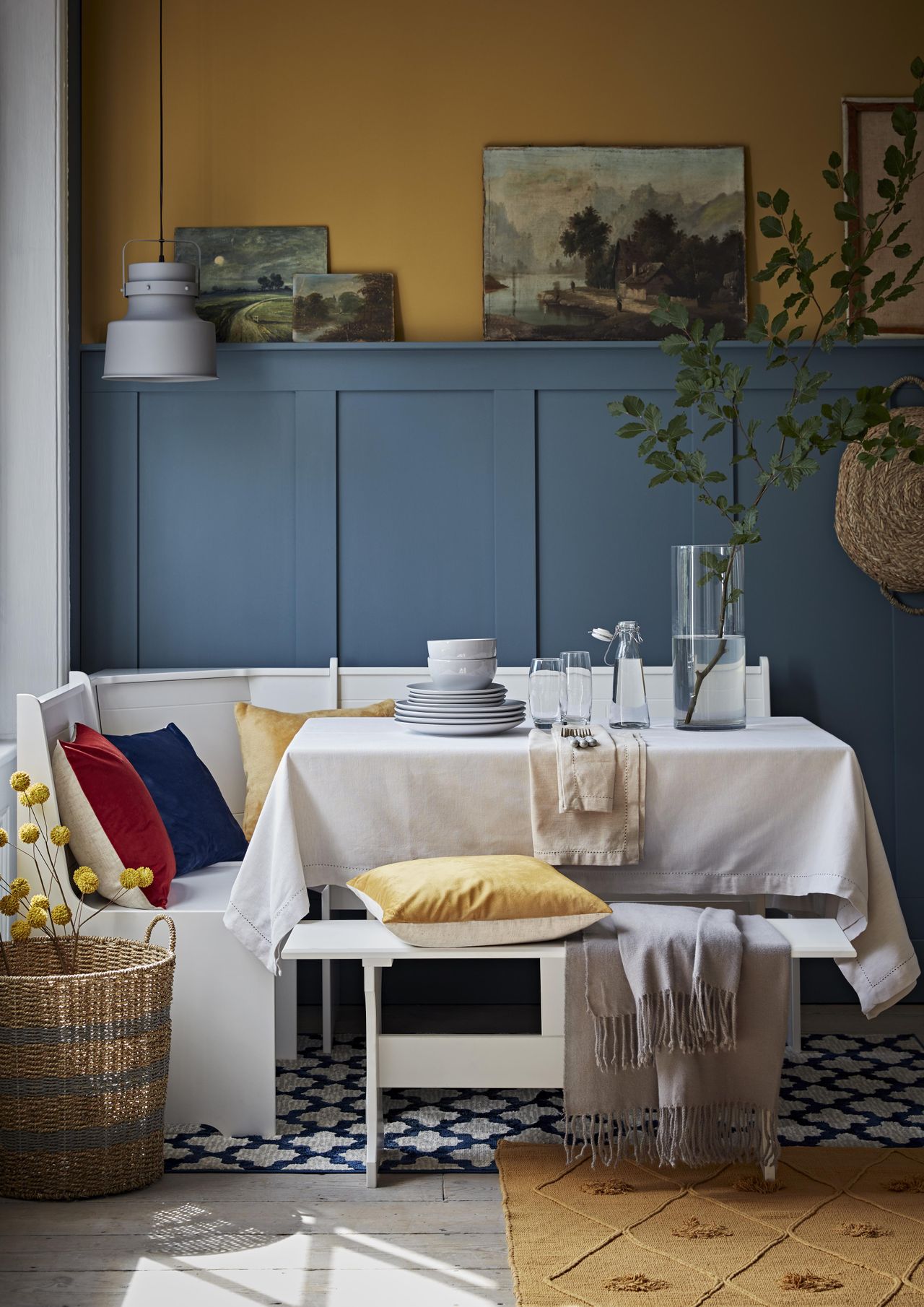 If you love the classics, choose a warmer colour pallet for autumn. Think deep yellows, oranges and we even love this greyish blue too. A really easy way to switch up the colours in your rooms is soft furnishings –  and by that we mean cushions! These Argos ones are such a bargain. They are velvet on one side and a linen effect on the other, so you get a stylish two-tone effect. There are lots of jewel-like colours to choose from, all perfect for your autumn decor update.
15. Bring the outside in with dried flowers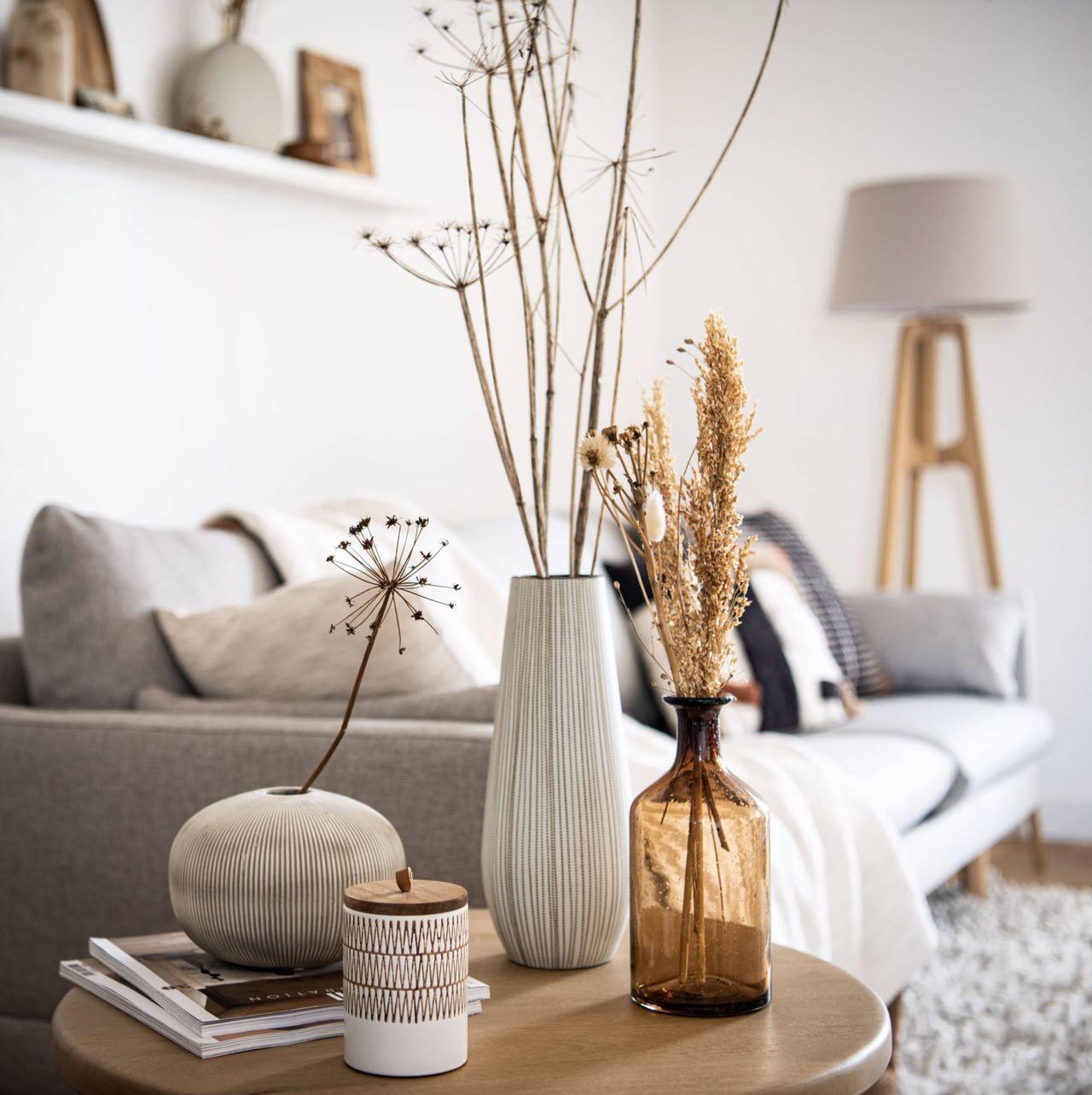 Dried flowers are here to stay and they are a great way to bring some natural, delicate textures into your home in autumn. 
You can dry flowers yourself just by tying them together and hanging them up for a couple of weeks but we have our eye on all the gorgeous affordable buys over on Maisons du Monde.
16. Incorporate moody, autumnal florals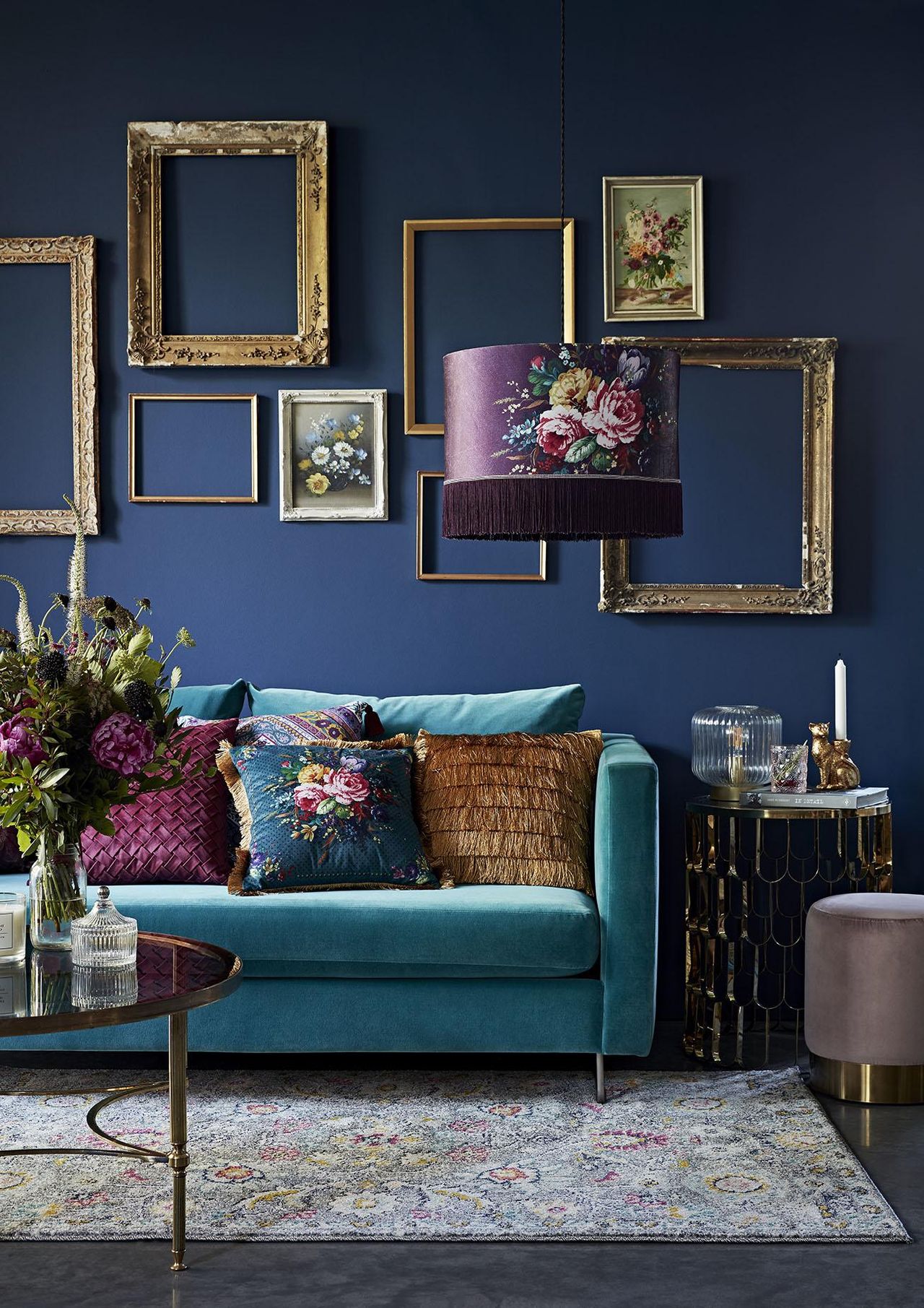 Invest in shades of blue, burnt orange, magenta and forest greens and source some blousy blooms and you will have this autumn decor trend nailed. It's bold and beautiful, eccentric and opulent. We are madly in love with the floral cushions on the sofa – find similar looks from George at Asda – and scour car boots for vintage frames that you can spray gold, you might even find some old floral paintings too.
17. Go for country heritage with a touch of glamour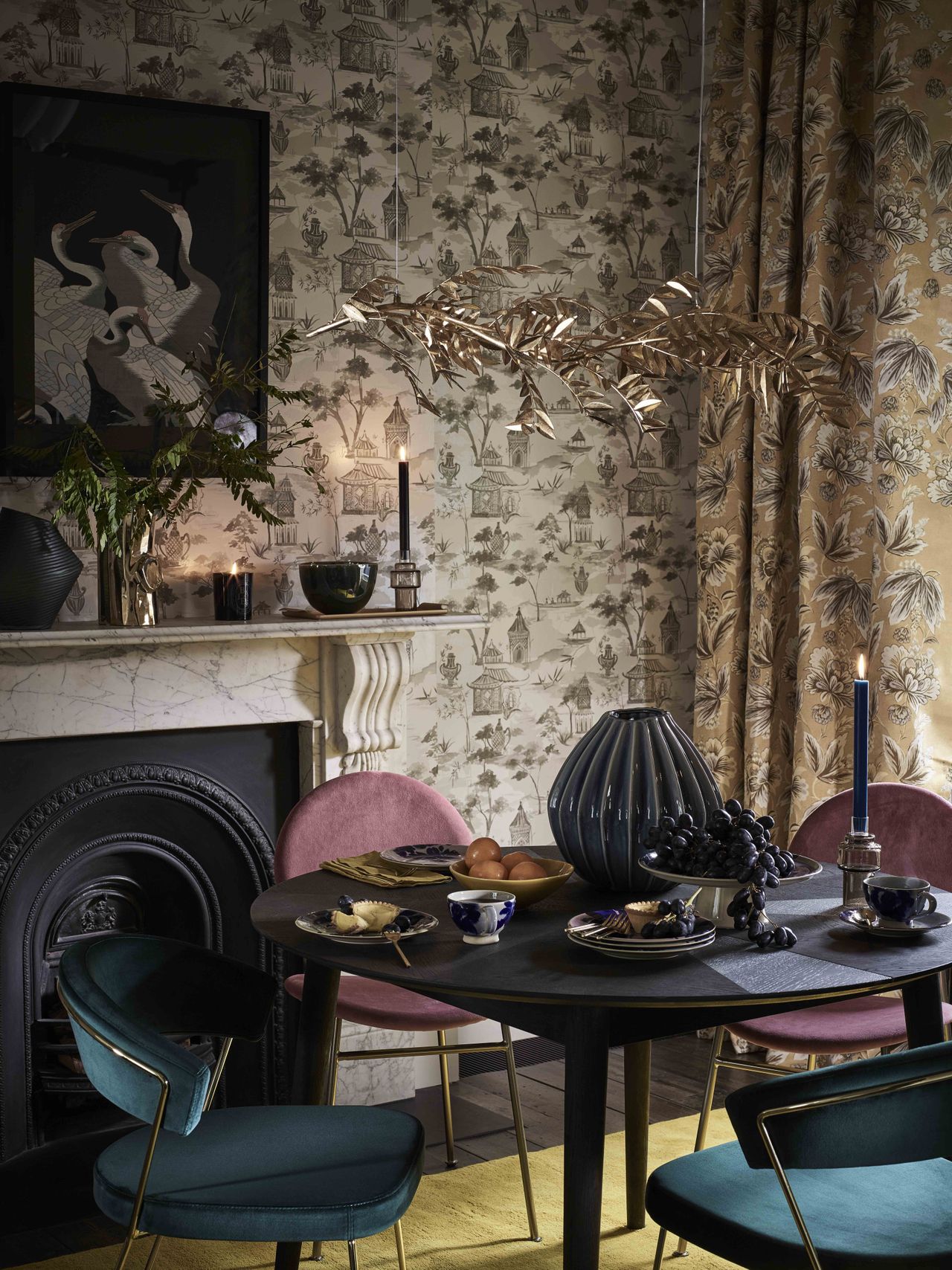 An eclectic look will work so well to warm up your home when the evenings start to draw in. We love the pattern clashing, the rich colours and the authenticity of this John Lewis look. To achieve this in your home use jewel toned shades, choose illustrative wallpaper ideas and curtains then pick accessories that are inspired by other eras like the 20s and 70s – glitzy and glam.
18. Add in a little bouclé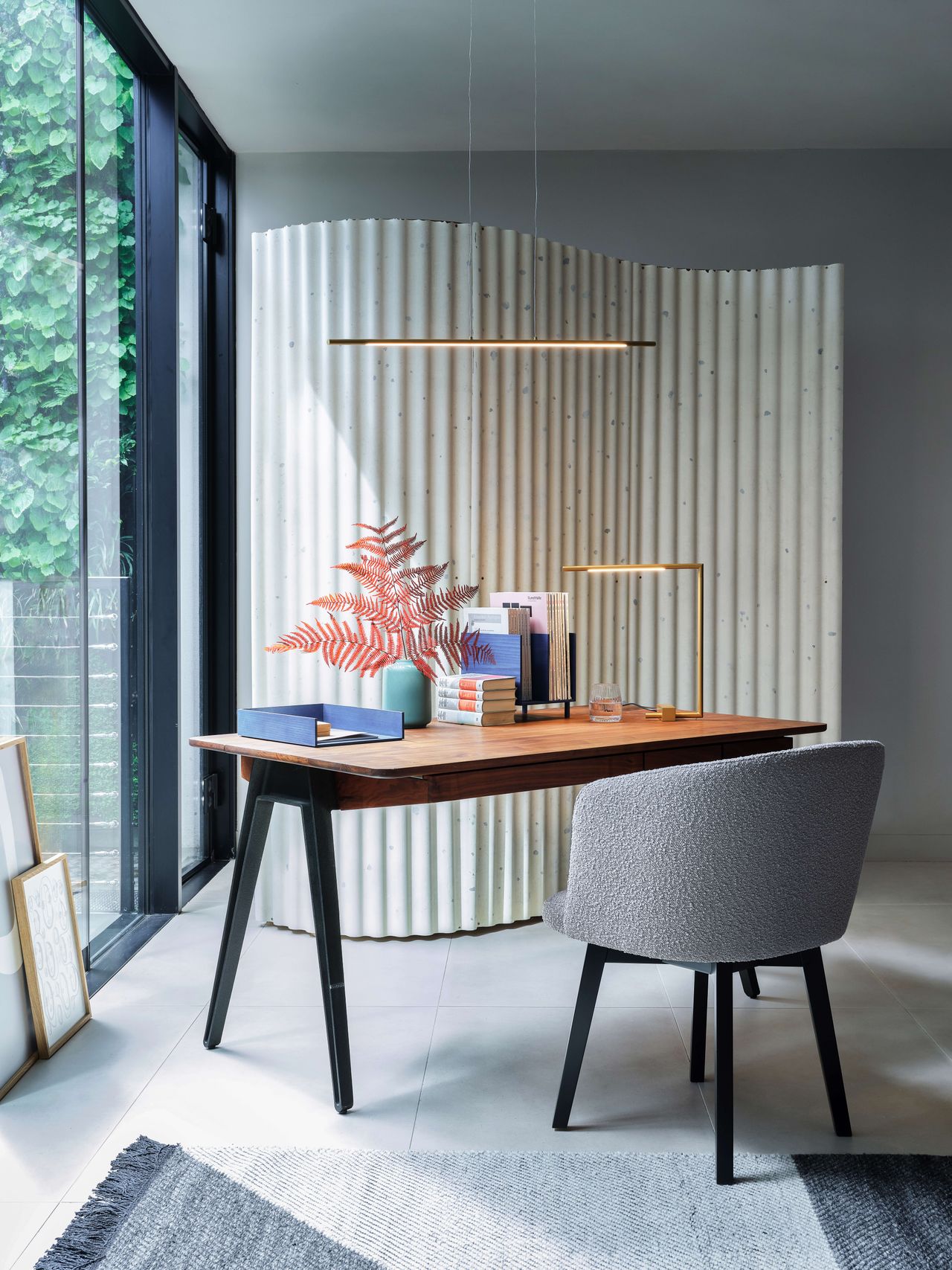 Bouclé – yes, that slightly slubby to the touch, tactile fabric – that is also a yarn (just to confuse us all). Back in the late 1940s, Florence Knoll asked for a chair she could curl up in, the result was the Saarinen's Womb Chair in Knoll's Classic Bouclé. It's now back and you're going to see it everywhere, in both interiors and fashion, so get ahead of the crowd and bag your bouclé buys early – this gorgeous armchair is by Heal's.
19. Natural wood grain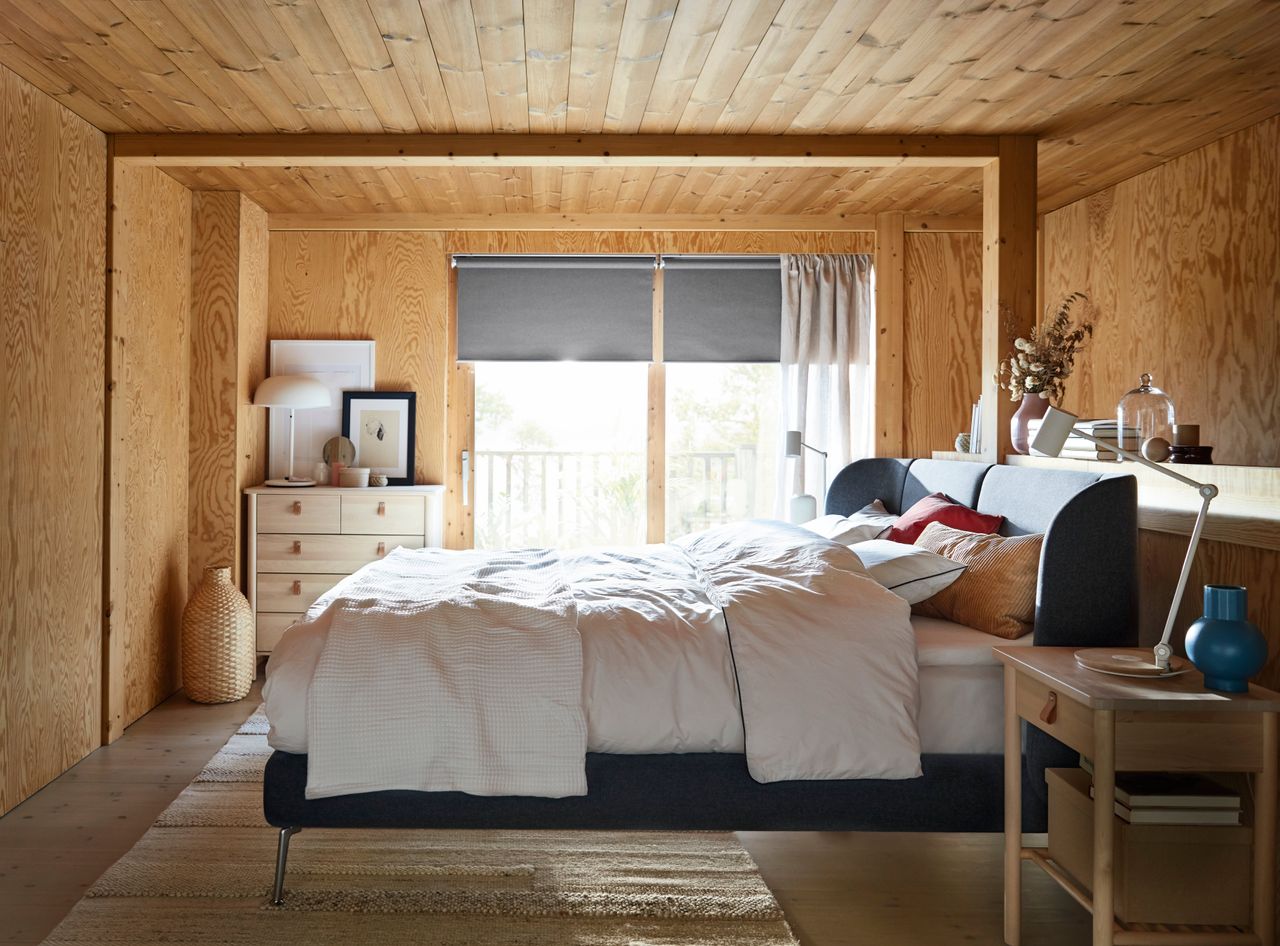 The natural grain of plywood adds texture and character to a plain space and is ideal to bring an autumnal feel to your surroundings – in all seasons. Team it with lighter window treatments, cotton bedding and wool throws for a light and uplifting finish.
20. DIY additions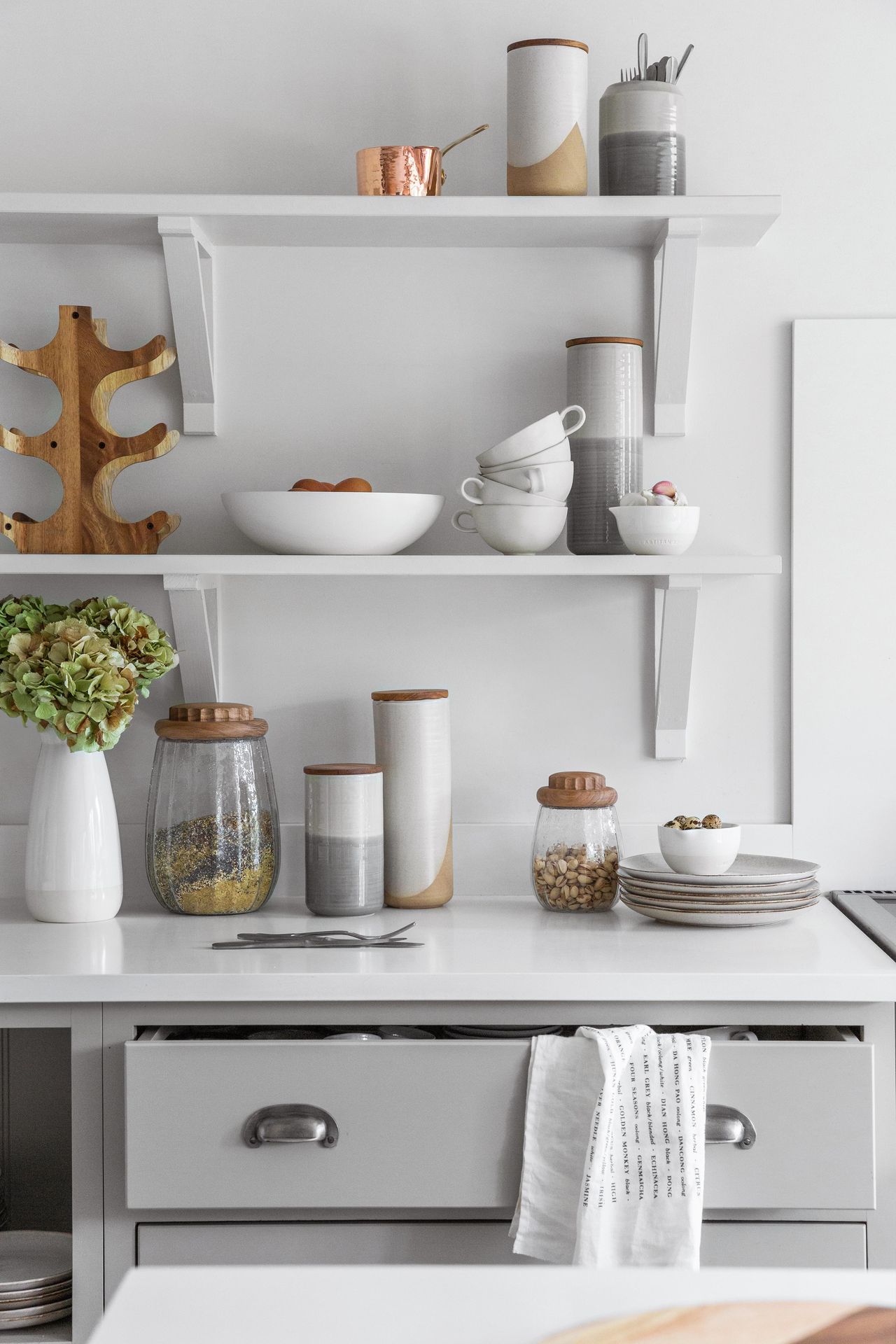 We love the irregular shaped tableware shown here by Amara, and the beautiful earthenware storage jars are divine. There's no reason why you can't DIY vases or other trinkets and ceramics yourself for added character when updating your home for autumn.
How can I decorate my room in autumn?
To bring all the beauty of autumn into your bedroom, choose throws and cushion covers in warm colour palettes including burnt orange, red and brown. For a modern finish, add in some pattern like a houndstooth print or go more Cottagecore with ditsy florals. 
Lighting is another easy way to bring your space into season. Some simple fairy lights or wall sconces may be all you need for a warm glow.
Kirk advises also, 'Add wreaths to interior doors or walls to fill blank spaces effortlessly whilst maintaining a minimal look.' 
'LED candles and ceramic pumpkins are a match made in heaven when it comes to autumnal decor and our pumpkin lights are the ideal choice.'
'For a slightly larger display, why not use an area of the room such as a side table or work surface which you don't really use. Sit an assortment of LED candles at differing heights next to your pumpkin lights, positioning a large pumpkin within the middle as a focal point of your seasonal set-up.'
How do you decorate for autumn on a budget?
You don't need to go overboard and that's the key to keeping your autumn decor ideas budget-friendly too! Think about crafting with the kids, picking up what nature has to offer and giving it a little seasonal sparkle using spray paint and the likes. Be sure to shop around too on eBay and Facebook market place where you'll be able to pick up wicker items galore and more home goods that are full of texture.